News Detail
Find out how Aussie Digital is changing e-commerce world for the better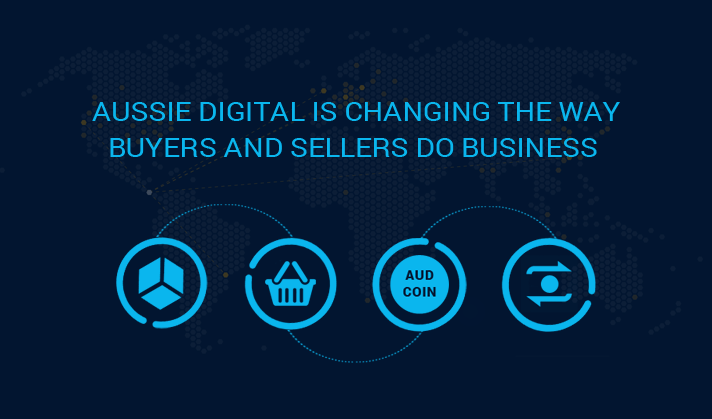 25 Jul 2018
At Aussie Digital, we're revamping the entire e-commerce sector.
A lot of Businesses will benefit from this new breed of E-commerce. The major consumers of this ecosystem include retailers, customers, importers, and manufacturers.
It's a platform for small shop owners and mid-sized stores.
It's a way for all these stores and mom-and-pop shops to make it big. It's a way for all these businesses to be online and compete with the big players. Buy like the big players.
In short, this ecosystem gives small businesses the resources and confidence to not just survive but even thrive online.
Let's find out how this ecosystem will change the way retailers will work in the e-commerce landscape. Forever.
Aussie Digital—bringing the ultimate crypto edge to e-commerce
So, basically, Aussie Digital is putting small- and mid-sized retailers on the front line of an e-commerce revolution. It's as simple as that.
And this ecosystem is doing that with the help of its range of services. (We'll come to these services in a bit.)
Aside from these services, the platform has its own native crypto coin—AUDcoin. And that's what makes all the difference.
It's an end-to-end ecosystem that's powered by crypto. This way, many retailers who just can't imagine dipping their toes in the crypto pond can finally do it. Once and for all. These retailers can experience the power that cryptocurrency is bringing to e-commerce and retail businesses worldwide.
Long story short, Aussie Digital is plugging a gap. It's a huge gap that exists between retailers and the exciting world of crypto-backed e-commerce.
And that's how many retailers will give its users and targeted prospects the buying power brought by cryptocurrency.
And AUDcoins will be used to pay for all the services offered by this ecosystem. It's simple, quick, and super convenient.
But what's the role of these services, you ask?
In one simple sentence, these services will let you make the most of your business when it's entering the world of crypto and e-commerce. Every service is aimed to streamline your retail business in one way or the other.
Now, let's dive into these services.
Aussie Digital's services that'll boost your retail business on the global stage
Okay, we won't explain much about these services over here. As you can read the stuff in detail on this website. Just click the homepage, and you'll find all the service-specific details over there.
First off, we've got a trading platform. It's a platform that's designed to let any first-time crypto buyer breeze through the crypto-buying process. Like, totally. Everything from the platform's user interface to its responsiveness is on a par with the best crypto exchanges in business.
The second one is a full-fledged e-commerce store. Yes, if you become part of this ecosystem, you'll get a chance to have your own online store at a fraction of the cost it takes to set up shop online.
Then, there's a social media platform. Here, retailers like you often connect with sellers and other competitors. You can say that this social media platform is the Facebook of the e-commerce world. It's about buyers. It's about retailers. It's about socialising the entire e-commerce to the core.
Now, what if your retail business will be able to dole out rewards for your customers? Well, it'll be definitely cool. And that's exactly what's happening at Aussie Digital. Here, if you've set up your business online on the ecosystem's e-commerce store, you'll be in a position to distribute rewards to your buyers. These rewards will improve buyer loyalty by a wide margin. But the best part is yet to come. You won't dole out the rewards from your pocket. Instead, the rewards will be given by Aussie Digital itself. Isn't that cool? Of course, it is.
The ecosystem has its own advertising platform. Through this platform, it'll be simpler to do paid advertising and zero in on only those buyers that matter the most to your business.
Last, the ecosystem has a complete B2B platform. Here, you can tie up with other similar retailers. This way, you'll form buying groups. Now, one question that'll come to your mind will be this: Why do I have to form a buying group anyway? The answer is simple—to bypass high MOQs (minimum order quantities) set up by leading manufacturers. When you and other similar retailers from a buying group, you will easily lay your hands on the best of the best stuff coming from top-class manufacturers and vendors. So, with Aussie Digital, high MOQs won't matter at all.
With all that stuff packed inside it, Aussie Digital will sure change the way retailers like you operate in the e-commerce space. And this change will definitely be for the better no matter what.
But since all these services are chargeable, you'll need a currency to buy them. To use them.
That's precisely where AUDcoins come into play.
AUDcoins—a new crypto coin for the e-commerce world
In the most basic words, if you want to unlock the sheer power of Aussie Digital, you'll need AUDcoins. These are the native crypto coins that are monetising everything on this ecosystem.
So, the real deal is that you have to get AUDcoins. Here's the good news—the crowdsale of AUDcoins will launch in some time. But in case you want to get the AUDCoins right now, then here's the thing. You've got to be part of the affiliate program because that's how you'll earn a good bonus on the platform's native crypto money.
In this affiliate bonus program, all you've got to do is promote the crowdsale. And the bonus is a three-level one.
Up next, we're going to explain what this three-level bonus is. And we'll even explain how this bonus actually matters to every retailer like you.
AUDcoins and the three-level bonus
- So, in the first level, you'll have to sign up on Aussie Digital ecosystem. The moment you do that, you'll get a 10 percent value of one AUDcoin. Yes, just for signing up! It's a real steal.
- Now that you've got the 10 percent bonus, you'll have to start the promotion. You'll have to get the word out that Aussie Digital is here with its AUDcoins. You've got to tell the prospects how this ecosystem will transform the entire e-commerce landscape. Now, whenever your referral joins the platform, you'll get three percent of the total value of an AUDcoin.
- Ultimately, the last level of bonus comes. When your referral's referral joins, then you get a 1 percent bonus.
- And that's how the chain continues.
Means, if you're swift with your promotional campaign, you'll end up earning a few AUDcoins as well.
To sum up
So, now you know how Aussie Digital is bringing a whole new level of efficiency to the e-commerce landscape at large. And that's not all. You even know about AUDcoins and how you can get a few of them without doing any hard work.
What's the wait? You just start the promotional campaign about Aussie Digital and AUDcoins. And that's precisely how you'll be part of an e-commerce revolution that'll make your local retail outlet a global brand.